About the wash100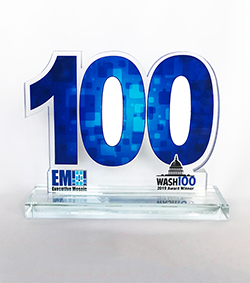 This year represents the seventh annual Wash100 award selection. The Wash100 is the premier group of private and public sector leaders selected by Executive Mosaic's organizational and editorial leadership as the most influential leaders in the GovCon sector. These leaders demonstrate skills in leadership, innovation, reliability, achievement, and vision. Visitors to wash100.com can sign in and vote for the executives they believe will have the greatest impact on government contracting in the coming year.
The media team at Executive Mosaic writes individualized articles for each recipient of the Wash100 award, providing a write up on the executive centered around their career history and highlights.
History of the Wash100
The Wash100 award is celebrating its seventh year. Recipients of the Wash100 were first recognized by Executive Mosaic in 2014. Since then, the Executive Mosaic organization and media team have annually selected 100 of the most noteworthy leaders in the government contracting industry.
Wash100 Award Founder
Jim Garrettson is the founder of the Wash100 award. Mr. Garrettson founded Executive Mosaic in 2001 to provide a cross-media platform and exclusive forum for top-tier executives in the Washington, D.C. region. Both the cross-media platform and exclusive forum are specific to the government contracting industry. Mr. Garrettson's efforts have spawned an array of specialized internet-based media properties, each focusing on different aspects of the GovCon sector. Mr. Garrettson also founded the Potomac Officers Club, dedicated to "weaving an executive fabric that benefits our local business community" by hosting GovCon-related events.