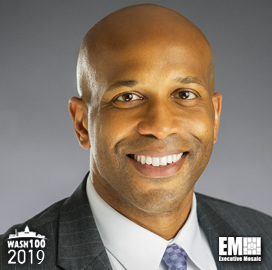 Tony Frazier
Executive Vice President and General Manager, Public Sector Earth Intelligence
Radiant Solutions
Executive Mosaic is pleased to introduce Tony Frazier, president of Radiant Solutions, as an inductee into the 2019 Wash100 — Executive Mosaic's annual selection of the most influential voices in the government contracting arena — for leading Radiant Solutions' efforts to support government missions with emerging technology. This marks the fourth Wash100 award for Frazier.
Frazier joined the Maxar Technologies subsidiary since its formation in October 2017 after MacDonald, Dettwiler and Associates completed its $3.6B acquisition of DigitalGlobe, where he was a senior vice president. Prior to his tenure at DigitalGlobe, Frazier served in various leadership positions at GeoEye, Cisco, Infor and IBM.
In his current capacity, Frazier supervises more than 1,000 engineers, geospatial experts, software developers and data analysts who work on multisource data collection and analytics-related operations with the goal of providing a better understanding of the planet.
In October 2018, Radiant Solutions announced two major deals to help the government implement emerging technology for mission-critical operations. Along with Maxar's SLL subsidiary, Radiant Technologies was tapped to conceptualize a Space Sensor Layer prototype to support the Missile Defense Agency in its efforts to locate missile threats.
Following this announcement, Radiant Solutions secured a potential $92M contract option to develop its existing DeepCore and Tomnod platforms for the National Geospatial-Intelligence Agency. The two systems process large volumes of remote sensing data and assist with broad area search operations and pattern analysis activities through machine learning and crowdsourcing functions.
"We are fully committed to helping the NGA harness the massive potential of Commercial GEOINT to reveal insights where and when it matters to build a better world," Frazier said when the contract was announced.
As the president of the $3B firm, Frazier has emphasized the importance of supporting the government in its missions through mapping and imagery-related services. Speaking with ExecutiveBiz in November 2017, Frazier discussed how the integration of Radiant Solutions, DigitalGlobe, MDA and SSL into Maxar can result in a strong player in the space-based intelligence industry.
"We believe we will grow Radiant Solutions and continue to offer some of the most exciting career opportunities in our industry in an environment where talented people get to apply cutting-edge innovation to some of the toughest problems facing our planet," he said.
Executive Mosaic congratulates Tony Frazier and the Radiant Solutions team for receiving this award.
About The Wash100
The Wash100 award, now in its sixth year, recognizes the most influential executives in the GovCon industry as selected by the Executive Mosaic team in tandem with online nominations from the GovCon community. Representing the best of the private and public sector, the winners demonstrate superior leadership, innovation, reliability, achievement and vision.
Visit the Wash100 website to learn about the other 99 winners of the 2019 Wash100 Award. On the website, you can submit your 10 votes for GovCon executives you believe will have the most significant impact in 2019.