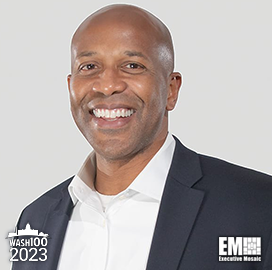 Tony Frazier
Executive Vice President and General Manager, Public Sector Earth Intelligence
Maxar Technologies
Executive Mosaic is honored to present Tony Frazier, executive vice president and general manager of public sector Earth intelligence at Maxar Technologies, as a winner of 2023 Wash100 Award for his leadership in utilizing satellite imagery and other space products to support critical government missions across the globe. This is the sixth time Executive Mosaic has featured Frazier on the annual list of leaders who play a pivotal role in the government contracting industry growth.
"Tony is among our top tier of Wash100 winners. He is a futurist with the vision to build exceptional relationships with intelligence agencies and commercial partners while integrating dramatic technological enhancements such as Synthetic Aperture Radar," said Jim Garrettson, CEO of Executive Mosaic and creator of the Wash100 Award. "Tony is driving access to valuable SAR data on both unclassified and secret networks for the military," Garrettson added.
In a February 2023 Executive Spotlight interview, Frazier discussed some of the trends in geospatial intelligence, particularly the transition from 2D imagery to 3D and 4D imagery.
"One of the big initiatives we've been focused on is how to take our 20-year image library and convert that into a 3D globe that allows our customers to not only leverage imagery for current intelligence or feature extraction for mapping, but apply it to a much broader set of use cases," he told GovCon Wire.
"With 3D foundation data at scale, we are now enabling synthetic training, mission planning, assured precision navigation and targeting applications that broaden our addressable market."
During the interview, Frazier talked about Maxar's plan to begin offering non-Earth imaging services in 2023 and how the company leveraged GEOINT to help predict and track Russia's invasion of Ukraine.
"We collect that data and share it with the public through over 500 media partners to counter disinformation. This can also apply to operational missions because our imagery is unclassified and shareable with allies and partners throughout the region. I think that really helped demonstrate the value that commercial GEOINT can play against a near-peer competitor," he stated.
In September 2022, the participated in a panel discussion at a national security summit and noted that acquisition contracts for the private sector have served as a key tool for the U.S. government to help supplement Ukrainian defense capabilities in the wake of Russia's invasion.
"Having contract vehicles in place to support solutions from demonstration to prototype to production has put systems into the hands of Ukraine end users quickly," the Maxar executive said.
He added the ongoing conflict in Europe became an "accelerant" for space-based support missions.
At a conference in March 2022, Frazier called the Russian-Ukraine conflict a catalyst for commercial remote sensing satellite operators to deliver GEOINT to customers on the ground.
"The crisis in Ukraine has really been a catalyst for bringing together … our industry, for how commercial remote sensing and more advanced geospatial intelligence can be applied to a trending event, where you're having the ability to see, understand and interpret activity from space, to really deliver insights to those in need," he said.
Apart from harnessing innovation in 3D, commercial space and advanced computing, Frazier also leads efforts in leveraging advancements in artificial intelligence and machine learning to help the U.S. and its allies maintain a strategic advantages.
In an Executive Spotlight interview in May, the Maxar executive called AI and machine learning as "powerful tools" for generating GEOINT.
"AI augments GEOINT by directing an analyst's focus to a particular imager or area of an image rather than spending hours panning and zooming," he told ExecutiveBiz. "AI/ML is one element in Maxar's 'sensor-to-decision' workflow, which provides rapid insights from commercial imagery by leveraging Maxar's secure data and communications infrastructure, high-resolution satellite imagery, mobile access terminals, 3D data and precision georegistration, and AI/ML."
He also noted that Maxar fields sensors on its satellites for in-space surveillance to help improve safety and is excited about the potential of data gathered by orbiting satellites and analyzed through AI and machine learning.
At an event in April 2022, Frazier stated that shareability is a key feature of imagery from commercial satellites.
That feature is reflected on the potential five-year, $192 million Foreign Commercial Imagery Program contract that Maxar secured from the National Geospatial-Intelligence Agency in early February 2023.
"Maxar is proud of our more than two decades' experience supporting the sharing of critical, actionable geospatial information with U.S. allies and partners," said Frazier. "Maxar's high-resolution 2D and 3D imagery and data products are integral for high-confidence mapping, planning and operational support, helping end users make faster, better decisions and saving lives, resources and time."
The company was also tapped by the Department of Defense to provide software development, engineering and data science support services to help streamline and standardize AI and machine learning capabilities under a basic ordering agreement.
"The Maxar team looks forward to applying our vast knowledge and experience in Earth intelligence as well as our deep understanding of AI/ML toward this mission," said Frazier.
In May 2022, Maxar achieved the Government Competency designation from Amazon Web Services in recognition of its efforts to deliver mission-critical workloads and applications on AWS in support of defense, intelligence, civilian, local and state government clients.
"Our team is dedicated to helping government customers meet their missions by leveraging Maxar's Earth Intelligence solutions, which AWS helps power," Frazier said.
In August 2022, Frazier had an opportunity to participate in a National Space Council meeting in California and present before U.S. Vice President Kamala Harris as one of the representatives from U.S. space companies.
During the event, he had the chance to discuss how Maxar augments public remote sensing systems and provides commercial satellite imagery to the U.S. government.
"I'm very optimistic about the future of the commercial space industry and look forward to working with the National Space Council to ensure the U.S. extends its lead in this sector and develops the diverse talent pool necessary to drive ongoing innovation," Frazier wrote in a blog post.
Executive Mosaic congratulates Tony Frazier and the Maxar team on their 2023 Wash100 win. Don't forget to cast 10 votes by April 28 for this year's ranking of winners at Wash100.com.