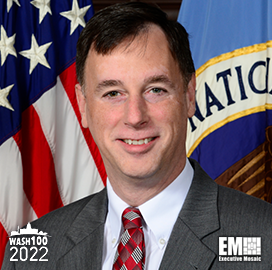 Rob Joyce
Director and Deputy National Manager for National Security Systems Cybersecurity Directorate
National Security Agency (NSA)
Executive Mosaic is glad to introduce Rob Joyce, the National Security Agency's cybersecurity director and deputy national manager for national security systems, as a recipient of the 2022 Wash100 Award for leading efforts to secure critical infrastructure and address increasing cases of cyber crimes and ransomware incidents.
This marks the second time Joyce has been included in Executive Mosaic's annual list of officials and executives who will impact the government contracting sector in the year ahead. Visit Wash100.com to cast your votes for him and your other favorite GovCon leaders.
Joyce assumed his current NSA role in January 2021, succeeding Anne Neuberger, who now serves as deputy national security adviser for cyber and emerging technology. Since then, the agency's cybersecurity lead has been responsible for overseeing initiatives to prevent and stop threats to national security systems as well as help safeguard the defense industrial base.
In April, an NSA cybersecurity advisory underscored the need for operators and owners of DIB networks to have a risk analysis strategy for enterprise information technology to connected operational technology. Other recommendations were made to protect IT-to-OT networks.
NSA, throughout the previous year, worked with the Cybersecurity and Infrastructure Security Agency and the Office of the Director of National Intelligence to publish resources about the adoption of 5G technology, the security of Voice and Video over Internet Protocol and Unified Communications systems, the threats to open-source automation system Kubernetes, and the risks and considerations for selecting a virtual private network.
In October, NSA and CISA jointly released the Security Guidance for 5G Cloud Infrastructures: Prevent and Detect Lateral Movement in an effort to assist organizations in identifying malicious cyber activity in the 5G cloud.
"This [four-part series produced by the Enduring Security Framework public-private working group] exemplifies the national security benefits resulting from the joint efforts of ESF experts from CISA, NSA and industry," said Joyce.
Aside from the topics covered in the published resources, the NSA cybersecurity director stressed the importance of having next-generation encryption capable of defending confidential data and communications from quantum computing-powered cyber threats. He said post-quantum capability must be rolled out today to protect information "for decades into the future."
The said capability is among the agency's near-term priorities.
On ransomware, Joyce highlighted NSA initiatives to address the increasing attacks. "But what we're doing is stepping up with a surge on ransomware issues to help the FBI, [U.S. Cyber Command], even things like the Treasury and State departments—because what we can do is we can inform their ability to get after the criminals."
Joyce also talked about how attributing cyber attacks became more challenging for the government. He warned that threat actor groups are employing VPNs and other commercial tools to avoid detection.
"What we often see is there are the commercial elements who by day are supporting those government activities and then by night using some of the same tools, infrastructure and other activities. And I think it's really important China understands how much of a risk that is to them, that these uncontrolled actors are, you know, ambiguously combined with their activities, and that, that's a problem," Joyce said.
NSA also collaborates with the industry, academe and other organizations to ensure it continues to safeguard U.S. critical infrastructure.
Joyce said combining NSA-gathered signals intelligence data with private sector-collected information could support intelligence community efforts to bridge gaps in foreign hacking operations.
"That takes intelligence, that takes some collaboration, and it's also really … vital that it can't be just a government solution, and it can't just be an industry solution, because we both have parts and pieces that we're not going to see ourselves," he added.
Joyce has been with NSA for approximately three decades now. He held leadership roles focused on information assurance and signals intelligence. In 2018, he was presented with his first Wash100 Award in recognition of his extensive support to the public and private sector in enhancing info intelligence assurance.
Executive Mosaic congratulates Rob Joyce and the NSA Cybersecurity Directorate for their 2022 Wash100 selection.
About the Wash100 Award
This year represents the ninth annual Wash100 award selection. The Wash100 is the premier group of private and public sector leaders selected by Executive Mosaic's organizational and editorial leadership as the most influential leaders in the GovCon sector. These leaders demonstrate skills in leadership, innovation, reliability, achievement, and vision. Visitors to wash100.com can sign in and vote for the executives they believe will have the greatest impact on government contracting in the coming year.