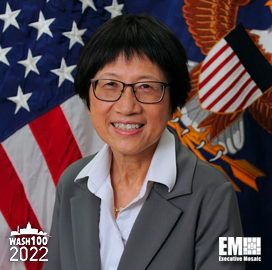 Heidi Shyu
Under Secretary, Office of the Under Secretary of Defense for Research and Engineering [OUSD R&E], Acquisition and Sustainment
U.S. Department of Defense (DOD)
Executive Mosaic is honored to induct Heidi Shyu, undersecretary for research and engineering at the Department of Defense, into the 2022 edition of its prestigious Wash100 Award – an annual distinction of 100 consequential government contracting executives who exhibit notable leadership and make significant contributions across the federal landscape.
This marks Shyu's second Wash100 recognition, following her win in 2015 for driving procurement, research and development efforts during her time as assistant secretary for acquisition, logistics and technology for the U.S. Army from 2012 to 2016.
Visit Wash100.com to cast your vote for Heidi Shyu and to learn more about the nine-year history of the coveted Wash100 Award.
Since Shyu's confirmation to her position within OUSD(R&E) in July 2021, she has championed the research, development and deployment of emerging and advanced technologies to keep the U.S. on the forefront of innovation and competitive against other global powers.
Shyu has also notably spearheaded efforts to synchronize Defense Department capabilities and technologies through multiple unification and centralization efforts and initiatives. In October 2021, Shyu said the office she leads plans to develop a centralized database to provide R&E with a comprehensive overview of all the technological development projects being conducted by disparate service branches and DOD agencies.
She mentioned that R&E has already gone to U.S. service branches, the Defense Innovation Unit and the Strategic Capabilities Office to gain a better understanding of their processes and contacts.
"We'd like to create a database we can tap into so that I can basically Google for a specific capability or product," she envisioned.
"We're looking across the entire DoD to look at all the different innovation activity that's ongoing. I'd like to get my arms around just how many innovation organizations that we have," commented Shyu, adding that improving the department's data sharing capabilities will "speak volumes."
Along the same priority area, Shyu chairs the DOD's innovation steering group and led the launch of its Rapid Defense Experimentation Reserve, which collects feedback from combatant commands and military branches in order to address capability gaps across joint warfighting initiatives.
Five weeks after launching the RDER program, Shyu said her office received more than 200 ideas and funded the top 32 projects that could close these critical gaps. "There was a lot of excitement in terms of what we're doing," Shyu commented on the program's response.
At the helm of the DOD's R&E office, Shyu has reached across industry, academia and ally organizations to drive innovation for warfighters and U.S. defense organizations.
She told an audience during the Reagan National Defense Forum that the DOD should prioritize early engagement with private sector companies, so that commercial capabilities can be integrated into military technology requirements in the initial phases of the product development cycle – which allows for more optimized collaboration and streamlined delivery.
In February 2022, Shyu released her highly-anticipated science and technology strategy, which contains the DOD's top 14 critical technology areas and classifies them into categories based on priority and application.
Among these 14 tech priorities are artificial intelligence, directed energy and hypersonics – three areas of which Shyu has been a vocal proponent.
In a keynote address during the Potomac Officers Club's 8th Annual Defense R&D Summit, Shyu shared with the virtual audience, "I want companies to develop trusted AI and trusted autonomy that I can then leverage to manage unmanned systems – and not just one, but perhaps a whole wave."
To hear Shyu's full remarks on the DOD's critical priority areas, watch the 8th Annual Defense R&D Summit on-demand now.
"Trusted" being the keyword in Shyu's AI goals, she aims to collaborate with industry leaders who are ahead of the federal government in successful AI implementation and "converge on trusted AI/ML, trusted autonomy."
In the area of directed energy, Shyu enthusiastically shared the DOD's progress, saying, "We are finally at the cusp of developing laser technologies. After 30 years, we're getting to the point of fielding the prototype designs."
Shyu led a meeting with top Pentagon and industry executives in February to discuss the importance of rapidly developing and fielding hypersonic technology. She explained that the DOD is "pushing the contractors very, very aggressively" on hypersonics in response to global pacing challenges and adversarial developments in that area.
Executive Mosaic congratulates Heidi Shyu and the Office of the Under Secretary of Defense for Research and Engineering on their selection for the 2022 Wash100 Award. Shyu has made significant strides in the Defense Department's adoption of cutting-edge technologies, synchronization of joint warfighting capabilities and cultivation of robust public-private partnerships, and she has demonstrated great potential for leading future innovations in the coming year and beyond.