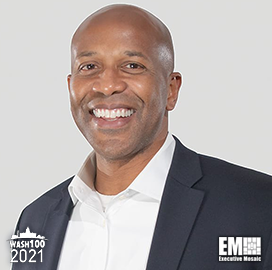 Tony Frazier
Executive Vice President and General Manager, Public Sector Earth Intelligence
Maxar Technologies
Executive Mosaic is honored to announce Tony Frazier, executive vice president of Global Field Operations at Maxar Technologies, as a recipient of the 2021 Wash100 Award.
This marks the fifth time that Frazier has received the most prestigious award in all of government contracting (GovCon). His leadership in helping defense and intelligence customers with Maxar's commercial space technology has led to his most recent Wash100 Award win.
"Tony Frazier is a stabilizing force and the glue that pulls together a collection of acquired key overhead companies such as DigitalGlobe, GeoEye and Radiant Solutions into a cohesive amalgam that delivers on the tag line, 'Improving life on Earth from Space,'" said Jim Garrettson, CEO of Executive Mosaic and founder of the Wash100 Award. "Tony, also a new board member for Iridium and a five-time winner of the prestigious Wash100 Award, is well established and recognized as part of the GovCon executive leadership fabric."
Most recently, Frazier was announced as a new board member for Iridium Communications to provide expertise and strategic oversight support for the Iridium enterprise.
"As our company has completed its financial transformation and entered a period of strong free-cash-flow generation, Tony brings an ideal skill set to help further Iridium's mission and help us plan toward our bright future," said Iridium CEO Matt Desch, who is also a recipient of the 2021 Wash100 Award and a seven-time winner.
At the Intelligence and National Security Summit, Frazier noted the company uses commercial technology advancements to help the U.S. government manage national security operations and address various threats from near-peer competitors, the ongoing global health crisis and extreme weather events.
"The acceleration of these threats is placing incredible stress on our national security community," he said in the recording posted in Sept. 2020. "The U.S. National Defense Strategy (NDS) outlined steps we're taking to respond through modernization, acquisition reform and partnerships."
Frazier has also discussed how the company leverages advances in sensors, computing, artificial intelligence, machine learning and other tech areas to respond to challenges outlined in the NDS.
"Over the past five years, Maxar has invested over a billion dollars to harness these enabling technologies to support current and emerging requirements, to see activity at global scale, to deliver sensor data to users in near real time and to automatically extract information from data to drive decisions," he said in the video recording posted Monday.
He cited the company's support to national security efforts in the past 20 years, including the collection of 90 percent of satellite imagery used to develop Foundation GEOINT for the U.S. government and assistance to the U.S. Army One World Terrain program, which seeks to create 3D representation of the global battlefield to support interactive mission training rehearsal.
Frazier highlighted the planned 2021 launch of WorldView Legion optical imaging satellites and the company's acquisition of 3D data and analytics company Vricon in June 2020 as part of efforts to advance growth initiatives in Earth intelligence and 3D technology markets. He noted that the company is "investing heavily" in its next-generation satellite constellation designed to collect satellite imagery.
He also mentioned the EnhancedView contract that calls for Maxar to continue delivering commercial satellite imagery to the National Reconnaissance Office and how the company helps the U.S. Air Force and Special Operations Command automate intelligence production cycles using artificial intelligence and machine learning.
"Using our extensive expertise in AI/ML, data science, big data integration and domain-specific analytics, we gather content from many sources, sensors and providers, and then combine that content with powerful geospatial analytics to help customers be more predictive in their critical decisions and more productive in their daily operations," Frazier wrote.
In July 2020, Maxar announced that it renewed four multi-year agreements and expanded a fifth contract during the second quarter to provide international defense and intelligence customers access to its constellation of Earth imaging satellites through the Direct Access Program. Those contracts were worth more than $120 million combined.
"We are proud of our 20-plus year track record supporting these United States allies and our continued role delivering Maxar capabilities as an essential part of their national security architectures," Frazier said.
Maxar won several government contracts in 2020 and one of those is a potential five-year, $23 million contract to help the Department of Homeland Security (DHS) build an analytics tool to characterize and track vehicle behavior in real time across multiple domains. As well as another $20 million contract to help the National Geospatial-Intelligence Agency (NGA) classify land covers and detect geographical area changes.
"Maxar is constantly evolving our analytic capabilities and GEOINT solutions to empower customers to more quickly ingest intelligence for a breadth of defense and intelligence missions," said Frazier. "We are proud to be a prime contractor on NGA's Janus Geography program, demonstrating how industry can deliver innovative solutions that satisfy NGA's unique needs."
Executive Mosaic congratulates Tony Frazier for his 2021 Wash100 Award. His commitment to national security-driven commercial space innovation has cemented Frazier as one of the most significant executives to the GovCon sector and a five-time Wash100 Award winner.

Visit Wash100.com to cast a vote for Tony Frazier as the most significant executive of consequence to the GovCon sector. Cast your TEN votes TODAY to advocate your favorite leaders in the federal and government sectors. The elite leader with the most votes by April 30th will be recognized by the GovCon community as the industry's most influential member.