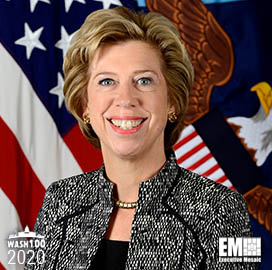 Hon. Ellen Lord
Under Secretary of Defense for Acquisition and Sustainment
U.S. Department of Defense (DOD)
Executive Mosaic is honored to present Ellen Lord, undersecretary of defense for acquisition and sustainment, as an inductee into the 2020 edition of the Wash100 Award for ramping up efforts to secure the defense supply chain while also working to accelerate the Pentagon's procurement process.
This marks Lord's fourth Wash100 Award and third consecutive. Lord received her 2019 Wash100 Award for her vision to transform the department's acquisition policy, update the F-35 program strategy and establish a Space Force.
On Jan. 31, the Department of Defense issued the final version of the Cybersecurity Maturity Model Certification (CMMC), which seeks to certify the cybersecurity practices of contractors and help strengthen the security of the supply chain.
Lord said the potential impact of implementing CMMC on small and medium-sized companies is one of her biggest concerns. "We need small and medium businesses in our defense industrial base and we need to retain them."
In mid-January, Lord said that the Pentagon plans to establish an Army-led office focused on counter-unmanned aerial systems as small UAS become a more popular weapon of choice. She noted that Robert Behler, director of operational test and evaluation at DoD, has a group that performs independent tests of deployed systems.
"Come April we will have that evaluation completed and written up. And that coincides [with] when we want to make some decisions about downselecting … to the three to five systems that would be utilized," she said.
In late October, the department released a new intellectual property strategy that would create a cadre to provide assistance to DoD agencies with regard to IP licensing and management.
"They will develop DoD guidance, training and assistance to the whole-of-government effort to address the protection of data rights, while we concurrently continue our defense against cybersecurity threats that target U.S. intellectual property," Lord said of the new IP cadre.
"The cadre will be small and our intent is to have members advise, assist and provide resources to DoD components on IP matters various stages of the lifecycle system."
Also in January, Lord approved and released a new DoD instruction that restructures the department's acquisition guidance to implement the Adaptive Acquisition Framework and improve processes.
DoD kicked off a review of "fourth estate" agencies in 2019 and Lord said the Defense Acquisition University, Defense Threat Reduction Agency and other A&S offices have undergone the Pentagon's review process.
"I think one of the greatest outcomes of this process is finding out where we are being held by statute to do things that might not, today, be in our best interest, where they were five, 10, 15 years ago," Lord said. "So we will go back to Congress and ask them for relief in certain areas where we think if we do things differently, we can gain some efficiencies."
Lord announced DoD's efforts to simplify the procurement of subsystems through rapid prototyping and fielding as well as plans to unveil the Trusted Capital Marketplace program to strengthen the industrial base against China and other potential adversaries.
"The idea here is that we don't often look down into the fourth, fifth, sixth, seventh layer of our supply chain to understand where we're sole source or where we're dependent on a foreign entity that might not be a trusted source," Lord said at the Defense-Protection-Security Conference.
"Our objective is to get secure sources of capital together with typically small, innovative companies that have technology and early-stage products in the sectors that we identified in this [Executive Order] 13806, … to try to get investment in areas that the Department of Defense thinks are critical."
She emphasized the need for the U.S. government to avoid any interruption or funding cuts in its ongoing nuclear capability modernization to stay ahead of Russia and China.
"We are living now with Cold War technology. We have put off modernizing the triad for multiple decades," Lord said. "We need to move forward. So, any cut in funding would essentially have us unilaterally stand down in terms of our capability to have a credible nuclear deterrent."
To address congressional concerns, Lord said her office is working on "a bunch of guidelines and internal rules" to promote transparency. The acquisition chief announced early last year about the department's plan to carry out a series of experiments on 5G. "5G is a national security issue for us, especially because we have to rethink our industry base as we move forward," she noted.
She also expressed support to the Pentagon's Public-Private Talent Exchange Initiative, which assigns private sector employees to civilian defense positions and vice versa to allow participants to comprehend each area's operations and share practices.
"This program presents an incredible opportunity for development and growth, I strongly recommend those interested step up and take advantage," said Lord.
Executive Mosaic congratulates Ellen Lord for her 2020 Wash100 Award selection. Lord's commitment to strengthen the country's defense industrial base and support the national security mission has established her an invaluable member of the government contracting (GovCon) community.
About The Wash100
This year represents our sixth annual Wash100 Award selection. The Wash100 is the premier group of private and public sector leaders selected by Executive Mosaic's organizational and editorial leadership as the most influential leaders in the GovCon sector. These leaders demonstrate skills in leadership, innovation, achievement, and vision.
Visit the Wash100 site to learn about the other 99 winners of the 2020 Wash100 Award. On the site, you can submit your 10 votes for the GovCon executives of consequence that you believe will have the most significant impact in 2020.