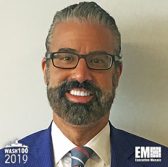 Executive Mosaic is honored to announce Ramzi Musallam, CEO and managing partner of Veritas Capital, as an inductee into the 2019 edition of Wash100 — Executive Mosaic's annual selection of the most influential voices in the government contracting arena — for leading the company's mergers and acquisition activity and helping Veritas grow organically.
This latest honor marks Musallam's fourth consecutive Wash100 Award.
Veritas completed its acquisition in May 2018 of PricewaterhouseCoopers' U.S. public sector arm, which provides strategic advisory services to federal, state and local government agencies.
"We look forward to supporting this company's growth – both organically and through strategic acquisitions – by leveraging Veritas' deep experience operating in government markets and our extensive network of relationships in the field," Musallam said.
Two months later Veritas rebranded the public sector business as Guidehouse led by Scott McIntyre, former partner at PwC and a 2019 Wash100 Award winner.
"Guidehouse is energized to move forward as a uniquely positioned company with the competency, vision and execution to help its clients address today's increasingly complex regulatory requirements," Musallam said at the time. "Our partnership with Guidehouse validates the company's customer-focused value proposition, industry-leading platform and long-term growth trajectory."
The Carlyle Group agreed to buy StandardAero from Veritas in late 2018. Carlyle used equity for the transaction from its $18.5B fund Carlyle Partners VII.
"The StandardAero partnership underscores Veritas' commitment to growing and adding lasting value to businesses in the aerospace and defense industries," Musallam said. "We wish the StandardAero management team all the best in their next phase of growth."
Musallam previously worked at several private equity and financial services firms including Pritzker and Pritzker, Berkshire Partners and J.P. Morgan.
From 2012 to 2018, he chaired Vencore's board. Vencore and KeyPoint Government Solutions, companies owned by Veritas Capital affiliates, merged with a spinoff of DXC Technology to form Perspecta. After the completion of the transaction, Musallam was chosen to serve on Perspecta's board in June 2018.
He earned a bachelor's degree, cum laude, in mathematical economics from Colgate University and an MBA with high honors from the University of Chicago Booth School of Business.
Executive Mosaic congratulates Ramzi Musallam and the Veritas Capital team for receiving this award.
About the Wash100
The Wash100 award, now in its sixth year, recognizes the most influential executives in the GovCon industry as selected by the Executive Mosaic team in tandem with online nominations from the GovCon community. Representing the best of the private and public sector, the winners demonstrate superior leadership, innovation, reliability, achievement and vision.
Visit the Wash100 site to learn about the other 99 winners of the 2019 Wash100 Award. On the site, you can submit your 10 votes for the GovCon executives of consequence that you believe will have the most significant impact in 2019.