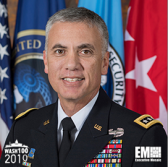 Executive Mosaic is happy to announce U.S. Army Gen. Paul Nakasone, commander of the U.S. Cyber Command and director of the National Security Agency, has been selected to the 2019 edition of the Wash100 — Executive Mosaic's annual selection of the most influential voices in the government contracting arena — for his cyberspace contributions and for protecting U.S. intellectual property against the nations chipping away at U.S. advantages in cyberspace. This marks the third consecutive Wash100 award for Nakasone.
During the Billington Cybersecurity Summit in September, Nakasone described the cyberspace industry as a "great powers competition" between the U.S. and adversarial nations. He explained that U.S. adversaries are waging strategic campaigns stealing U.S. intellectual property and have been leveraging information and attempting to disrupt elections.
In July, Nakasone instructed the National Security Agency and U.S. Cyber Command to exchange information and coordinate efforts to thwart possible interference during the November midterm elections last year. Nakasone has also formed a special task force to evaluate threats of Russian attacks in cyberspace.
The general argues that the NSA and CYBERCOM must join in a whole-of-nation effort to challenge the "free movement" of U.S. adversaries with a "strategy of persistent engagement, to build resilience at home, defend forward and content adversary campaigns and objectives through continuous cyberspace operations."
The U.S. Senate unanimously confirmed Nakasone as the NSA director and head of the Cyber Command in May 2018. He also became a full general after receiving his fourth star. He previously commanded the U.S. Army Cyber Command from October 2016 and April 2018. Nakasone has held command position across all levels of the Army with assignments in the U.S., Republic of Korea, Afghanistan and Iraq.
He served as a company commander and worked at the Pentagon during the September 11, 2001, attacks. Nakasone has also earned graduate degrees from the U.S. Army War College, the National Defense Intelligence College and the University of Southern California.
Over the course of his career, Nakasone has received prestigious awards, including the Legion of Merit, the Bronze Star, the Distinguished Service Medal, the Defense Superior Service Medal and many other high honors.
Executive Mosaic congratulates Gen. Paul Nakasone for receiving this award.
About The Wash100
This year represents our sixth annual Wash100 award selection. The Wash100 is the premier group of private and public sector leaders selected by Executive Mosaic's organizational and editorial leadership as the most influential leaders in the GovCon sector. These leaders demonstrate skills in leadership, innovation, achievement, and vision.
Visit the Wash100 website, where viewers can submit 10 votes for the executives of consequence they believe will have the most significant impact in 2019.