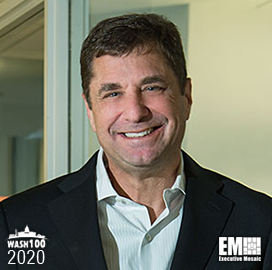 Woody Talcove
CEO, Government, LexisNexis Risk Solutions and LexisNexis Special Services Inc
LexisNexis Risk Solutions
Executive Mosaic is honored to present Haywood "Woody" Talcove, chief executive officer of Government for LexisNexis Risk Solutions, as an inductee into the 2020 edition of the Wash100 Award for his efforts to create innovation technology solutions, advance the public safety's mission and drive growth for the company.
This marks the first Wash100 Award for Talcove. His dedication to LexisNexis' customers and leadership has driven LexisNexis to consistently grow in revenue and given Talcove the opportunity to assist federal agencies in cybersecurity, drive revenue for LexisNexis and advance the mission for public safety.
In his role with LexisNexis, Talcove oversees the strategic business activities for the company in customer operations, sales, marketing, communications, consulting, corporate development and ecosystem activities. His commitment to his customers' needs have enabled LexisNexis to create new markets and innovate.
Talcove was pivotal in LexisNexis' acquisition of Lumen and all its assets in May 2019. The acquisition expanded the former's public safety solutions and gave Lumen customers access to a larger law enforcement network with additional solutions, new data sets and advancements to analyze and respond to crime to faster and support officer safety initiatives.
Under Talcove's leadership, the company continues to support that mission into 2020 after securing a six-year, multi-million dollar contract to provide legal and investigative information technology platforms to the U.S. Department of Justice (DOJ) and five component agencies, GovConWire reported on Jan. 15th, 2020.
Through the contract, LexisNexis will serve as DOJ's primary information provider and support for more than 44,000 professionals across the U.S. Attorney's Office, Federal Bureau of Investigation (FBI) Marshals Service, Drug Enforcement Administration (DEA) and other federal agencies.
"We consider it an honor to put our innovation and research to work to advance the public safety mission across the different DOJ components," said Talcove.
LexisNexis published its Cybercrime Report in October and discovered that 277 million cyber attacks, a 13 percent rise, were human-initiated between January and June of last year.
The report led Talcove to advocate that federal agencies should be adopting a layered cybersecurity approach to protect their systems from cyber vulnerabilities and implement a platform that has three components: authentication, physical identity and high-level digital identity intelligence capabilities.
"These three components will help agencies meet regulatory requirements, improve user experience, and locate evolving fraud. If this approach is executable in near real-time, it allows for more streamlined regulatory compliance processes and reduces friction across the citizen experience," Talcove added.
Executive Mosaic congratulates Haywood "Woody" Talcove for receiving his first Wash100 Award. His commitment to drive growth for LexisNexis, protect U.S. national security from cyber vulnerabilities and advance the public safety mission for American lives showcases the influence Talcove will have on the GovCon sector throughout 2020.
About Wash100 
The Wash100 award, now in its seventh year, recognizes the most influential executives in the GovCon industry as selected by the Executive Mosaic team in tandem with online nominations from the GovCon community. Representing the best of the private and public sector, the winners demonstrate superior leadership, innovation, reliability, achievement and vision.
Visit the Wash100 site to learn about the other 99 winners of the 2020 Wash100 Award. On the site, you can submit your 10 votes for the GovCon executives of consequence that you believe will have the most significant impact in 2020.